«Contrapposto» exhibition by Tayyab Tariq (Pakistan) in Moscow gallery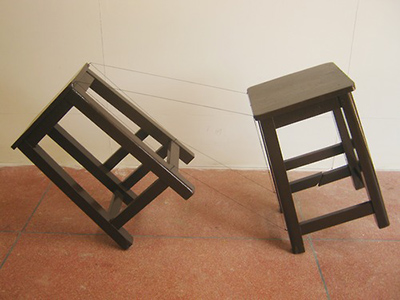 February 6th - March 13th
"Gallery 21"
Contrapposto is the state of equilibrium and peace created by opposite motions. As the evolving of urban civilization accelerates, the emergence of new forms gets more chaotic and unpredictable, and the complexity of structural relationships between their components increases rapidly. The aesthetic principle of the young Pakistani artist Tayyab Tariq is of harmonizing and synchronizing interaction between the heterogeneous objects: the form of human body sets parameters to everything; a chair is a body gesture, it is a device helping us adjust to any space, whether public or private.
"Contrapposto" transcends the limits of formation process in the world of objects. All of them are positioned here as dialogical pairs forming interrelation, imposed by the author, between counter posed metaphors. Process of their interaction is purely the discovery of self: an inactive body attracts active body and in some way the latter becomes more active by the former. Twisted into a spiral and charged with versatile identities, an ordinary object is our permanent gesture as it reflects the presence of people.
The conceptual core of every object is expressed as pliable, and its deceitful balance carries us away into the zone of meanings — not only that of symbols. Tayyab Tariq challenges the idea of perception and creates another type of mentality, where typical notions contradict co-existing ones, and the mentality itself is interpreted as an abstract thesis and its expansion.
About artist
Tayyab Tariq was born in 1988 in Pakistan. His artistic career started in 2005 in Naqsh Art School situated in Lahore. He graduated from Faculty of Visual Arts at Beaconhouse National University, Lahore (Pakistan) in 2013, was a holder of Merit Based Scholarship in 2012-2013, participated in INSPIRE project in 2012, which is a knowledge exchange program created to strengthen ties in scientific research between institutions of higher education in Great Britain and Pakistan and funded by the British Council. Tayyab participated in group exhibitions in the Alkhamr Arts Council and Art Gallery, Lahore (2008-2013), international exhibition "History of Art" presented in the SEE.ME gallery in New York (2013). His land-art work became the basis for the short film "Message for God", which will be screened at the Pakistani film festival FILUMS'14.